Jesse Gibbs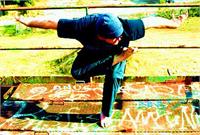 Jesse Gibbs is a leader in the field of massage and relaxation with more than 14 years of experience providing therapeutic bodywork to a broad array of clients. In addition to massage experience, Jesse also possesses 20 years of experience in teaching relaxation techniques and meditation as a kung fu teacher. Skills and techniques are perpetually developed and strengthened through continuing education so that clients receive the very best quality in the care they receive.
Seeds of Life was created out of Jesse's desire to offer not only assistance with physical balance and wellbeing through massage, but to also help clients reach complete balance through meditation and relaxation teachings. Incorporating these essential practices into a client's life assists in realizing their inner peace.
Honors
NCTMB Certified (ML#31887)
Space Coast Health Institute graduate
Member of Associated Bodywork and Massage Professionals
Interationally Certified Instructor - Supreme Science Qigong Foundation
Jesse Gibbs is currently not instructing any classes.