June Dollar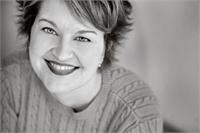 June has practiced yoga for about 6 years. She graduated with her 200-hour teacher training certification with Many Rivers Yoga in Tallahassee in October 2015. The biggest indicators of change in her life since practicing yoga have been a greater awareness of the importance of being present. Yoga has helped with a stronger body, mind and spirit (and flexibility). June's personal credence as a yoga instructor is to provide a safe, relaxed atmosphere for people to explore breath and movement in order to become more in touch with their bodies and to foster peace of mind. It is her desire to help others find their inner strength and grace on their mats so that they can bring these attributes into their daily lives. June spent 15 years as the production manager for the opera at the FSU College of Music before moving to Thomasville. She is now an adjunct professor at the FSU College of Education, and works in the Humanities Division at Thomas University. She and her husband, Grady Enlow, who also works at TU, share their home with two fur babies, Gilbert and Sullivan.
June Dollar instructs the following:
Pairing yoga postures with breath we create a flowing, moving meditation while improving our strength, flexibility and balance. We move fluidly from pose to pose. Suitable for all levels.




Yin Yoga is a good way to end the work week, and welcome the relaxed pace of the weekend. Yin yoga is a slow-paced style of yoga with postures that are held for longer periods of time. Good for the body, mind, and soul!