Gina Curry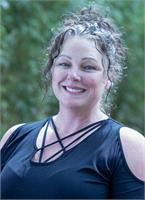 Gina graduated from Core Institute of Massage Therapy in 2006. She has a passion for working with people to make them feel better in their bodies. Whether they need relaxation or deeper body work, she believes both can be equally beneficial depending on the individual needs of each client. Gina continues to expand her massage education, most recently studying Traditional Thai massage & Swe-Thai massage under the teachings of Margie Meshew. She has studied Pregnancy massage, Manual Lymphatic Drainage, Facelift massage, and is a Reiki level 1 practitioner. Gina is currently a student of Many Rivers 200 HR Yoga Teacher Training program, expected to complete in October 2014.
Massage and owning a business is a second career for Gina. She graduated from Valdosta State University in 1998 with a B.A. degree in Sociology and Human Services. She worked several desk jobs before entering the graduate program in Counseling through Webster University. It was there that she decided she wanted a more "hands-on" (literally) approach to helping people feel better. Gina grew up playing team sports and with a love for exercise and body mechanics; and she loved going to spas and receiving therapeutic massage. So it was a natural fit for her to study massage therapy, and to open a business working with a team of massage therapists/body workers and spa professionals. She is grateful for the love and support of her husband, family, friends and excellent co-workers she's met along the way that have made Metta grow from notes on a pad to the reality that it is today!
Gina Curry is currently not instructing any classes.